ZC series Magnetic & Weight Separation Machine
DESCRIBE

ZC series Magnetic & Weight Separation Machine main used for retrieve iron concentrate from low grade iron ore or weak magnetism iron ore(i. e. hematite or pseu
ZC series Magnetic & Weight Separation Machine main used for retrieve iron concentrate from low grade iron ore or weak magnetism iron ore(i. e. hematite or pseudo morph magnetite).
Feature of the machine is combine magnetic separation with weight separation so reach effect of raise ore grade. It can content need of various grade and outcome rate.through adjust magnetic field intensity, belt speed, inclination. Appli-cabiIity extensive.
The machine specially suitable discard tailing separation again, draw concentrate, decrease environment pollute. General use as follows:
Retrieve iron concentrate directly from tailing of magnetic separation factory.
Retrieve iron bud scale from waste water of steel rolling mill.
Magnetic separation iron concentrate again from tailing of pile up many years.
Magnetic separation iron ore form flood land of inland and sand of seashore.
Magnetic separation iron concentrate from weak magnetic iron ore. i.e. ferric oxide ore etc.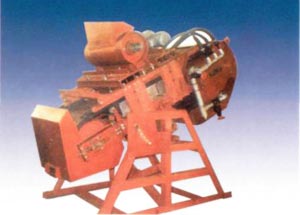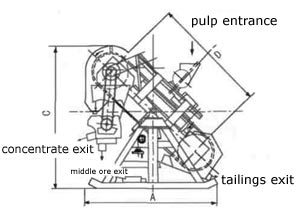 main technical parameter
model
belt width (mm)
give ore metall
(mm)
pulp density
pulp handle capable (m3/h)
size
A
B
C
D
ZC700
700
0-2
15-30%
80-100
1900
1212
1700
2100
ZC800
800
90-110
2350
1800
2700
2200
ZC1000
1000
105-130
3000
2300
4000
2400
Copyright © 2020 YUXIANG Magnetic Materials Ind. Co. Ltd. All Rights Reserved