Upper attractive magnetic drum separator
DESCRIBE

ApplicabilityThis series magnetic drum separator is applicable for automatically attracting and separating the ferromagnetic substance from moving materials. It
Applicability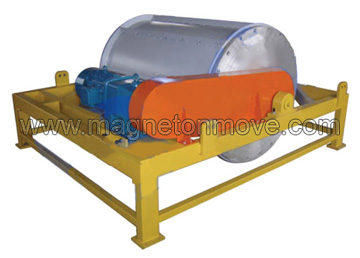 This series magnetic drum separator is applicable for automatically attracting and separating the ferromagnetic substance from moving materials. It is widely used in many industries including cement, thermal power, metallurgy, mining, chemicals, glasses, paper making, coal and so on. Especially suitable for handling steel slag and sorting garbage, of which the working condition is harsh, the amount of iron to separate is large and the iron is sharp. This drum magnetic separator can effectively resolve the problem that the belt of magnetic belt separator is easy to be damaged.
Features
The magnetic circuit adopts computer simulation way to design, featuring strong high magnetic field, high-gradient and strong magnetic suction.
Using high performance NdFeB as magnetic source, which features high (BH)max and hard to be demagnetized, the demagnetization in 8 years would not exceed 5%.
Automatic self discharge , stable running, can work continuously without any fault for a long time.
The control part can be connected to belt conveyor, so both manual control and Centralized control methods are available.
Capable to determine magnetic properties according to the specified working conditions.
Specification and Technical Parameters
Model Item
Belt Width
mm
Drum Size (D × L)
mm
Motor Power
kW
Weight
kG
SXGT-0810
1000
Φ800×1000
3.0
820
SXGT-0812
1200
Φ800×1200
3.0
980
SXGT-1012
1400
Φ1000×1200
4.0
1550
SXGT-1016
1600
Φ1000×1600
4.0
2050
SXGT-1212
1200
Φ1200×1200
5.5
1490
SXGT-1216
1600
Φ1200×1600
5.5
2170
SXGT-1614
1400
Φ1600×1400
7.5
3030
SXGT-1616
1600
Φ1600×1600
7.5
3440
Copyright © 2020 YUXIANG Magnetic Materials Ind. Co. Ltd. All Rights Reserved